The TOPLINE® bagging machine for open mouth bags
For the packaging of fine free-flowing powders in open-mouth bags
The TOPLINE® is a modern fully automatic packing system that has been especially designed for the packaging of fine free-flowing powders. The whole bagging process, from the filling up to the closing of the open mouth bags, takes place in a compact cabinet.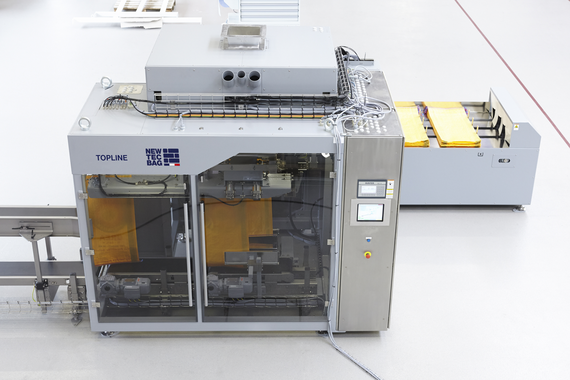 The strengths of the TOPLINE® bagging machine
A high level of cleanliness, perfectly adapted to the food industry
Precise weights, thanks to a weighing system that is tailored to the product
Beautiful bag shapes, thanks to the product densification system
A good product protection, with a carefully selected closing system, depending on your project
A beautiful advertising medium, thanks to quality printing and materials (e.g. glossy finish)
The functions of the TOPLINE® bagging machine
Empty bag placing
Bag filling (5 to 25 kg)
Product densifying and/or deaeration
Impulse sealing (of PE inliner)
Bag top folding
Bag closing (welding, folding, sealing, sewing)
Inline or 90° discharge of full bags
Do you have questions?
Get in touch & let us know!